New album "Chthonic Wrath" out in March!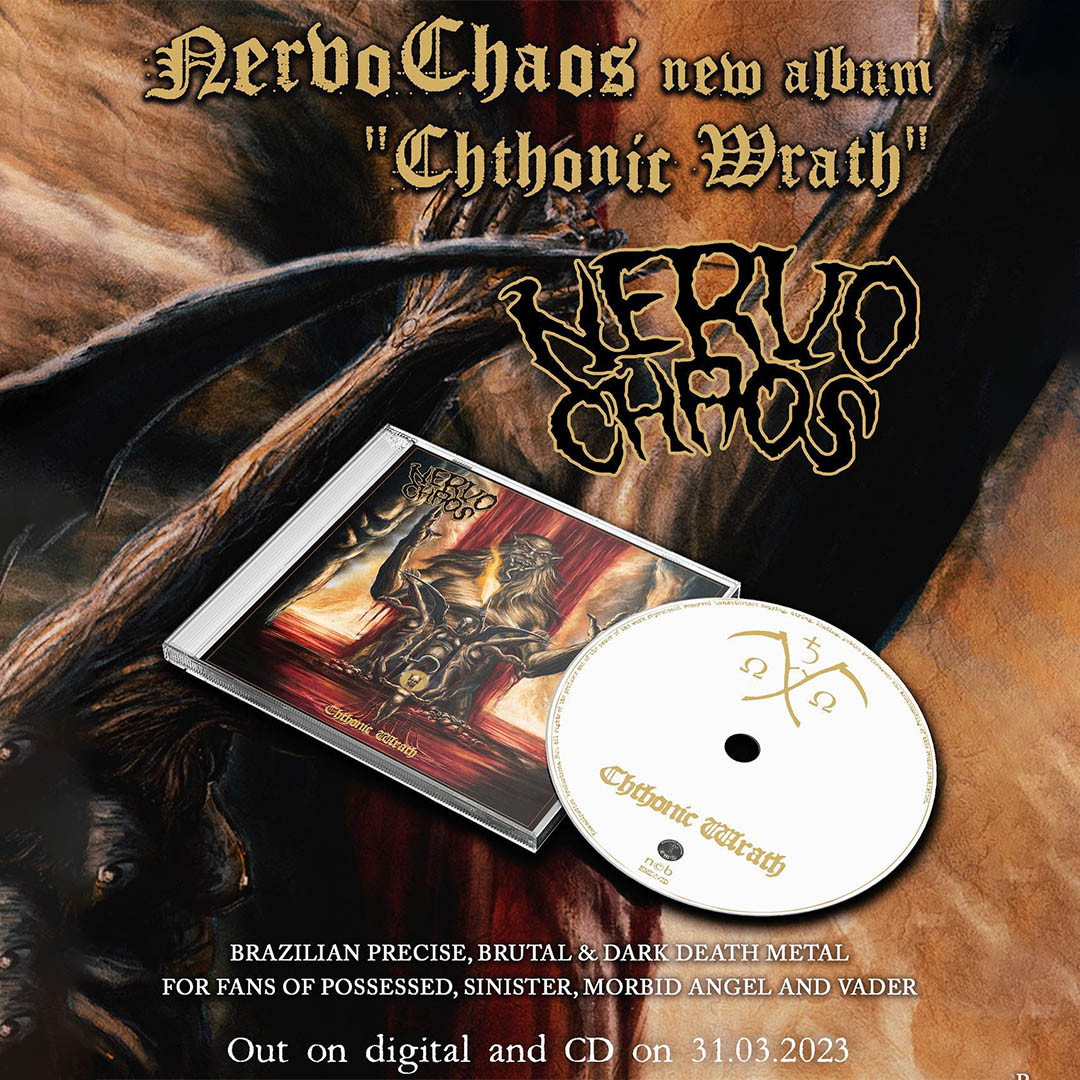 Pandemics was still hitting hard the entire globe, specially Brazil, where deaths exceeded the 30 thousand. Local death metal big guns NervoChaos were home for far too long. Being used to tour most of the year and not having that chance, due to Covid-19 related constrictions, the band had a brand new album entirely written and ready to record, even before their current album at that time, "All Colors Of Darkness", hit the shelves. Not ones to wait for the perfect music industry timing or sit on their arses, the Brazilians got themselves in the Abracadaver Studio, with producers Adassi Addasi and Adriano Daga (Angra, Almah, Torture Squad, etc) and recorded what was to be their next album. "Chthonic Wrath" was born.
Merely two months later, American producer Brendan Duffey, which worked previously with Nervosa, Angra and Andre Matos – to name just a few – got the 14 tracks to mix and master, and was utterly impressed. What NervoChaos achieved with "Chthonic Wrath" was their death metal essence, in all its brutality and technical prowess glory, but with hints of a renewed energy and heaviness. How could a group in their 26th year as a band be so hungry for more, passionated about death metal and still motivated enough to dig up riffs so vile, rhythm patterns so vicious and vocal attacks so violent that shake the listener to the ground? On top of it all, the subtle melody nuances and the superb acoustic guitar interlude (aptly named "Tomb Mold") recorded by Brazilian traditional music researcher Ricardo Vignini. NervoChaos might be an experienced band with thousands of accumulated stage hours. Some might even call them "old". But they're nowhere near their descent of the central role in Brazilian – and South American – death metal and they keep firing all cylinders when it comes to no bullshit, truly angry extreme music.
"Chthonic Wrath" will be released on digital and CD on March 31st, 2023. Pre-order now:
https://bit.ly/nervo-target
Check out the lyric video for the album opening track "Son Of Sin":
https://youtu.be/AQ0tr0PK_cg