News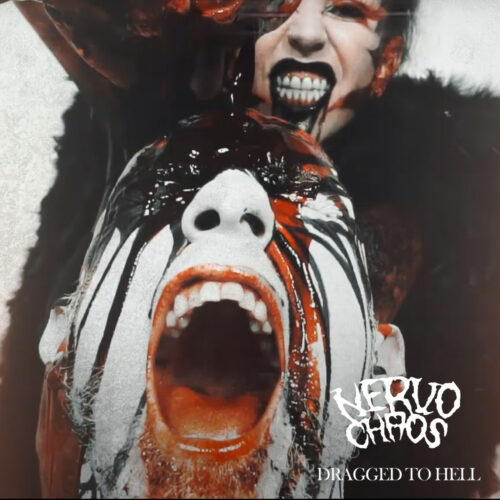 Posted at 01/21/2022
After a series of singles released ahead of the official release of their next album, "All Colors Of Darkness", NervoChaos now reveals "Dragged To Hell", their new song. With some changes of tempo and mood, "Dragged To Hell" shows the more eclectic side of NervoChaos, still extreme, heavy as fuck, still dark, but allowing the...
---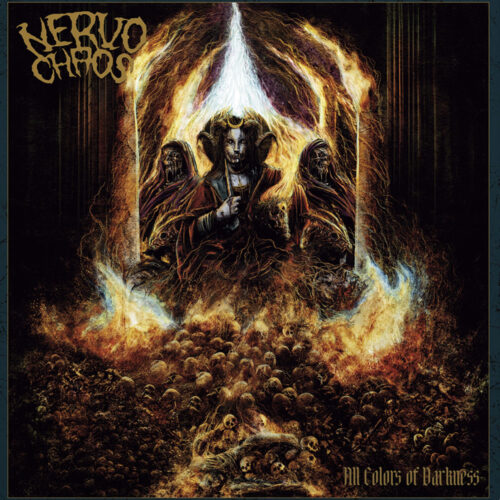 Posted at 01/10/2022
Our new album, "All Colors of Darkness", will be released on February 11th. National version in digipack and limited edition! Pre-sales coming soon, stay tuned! http://www.nervochaos.net https://nervochaos-store.minestore.com.br
---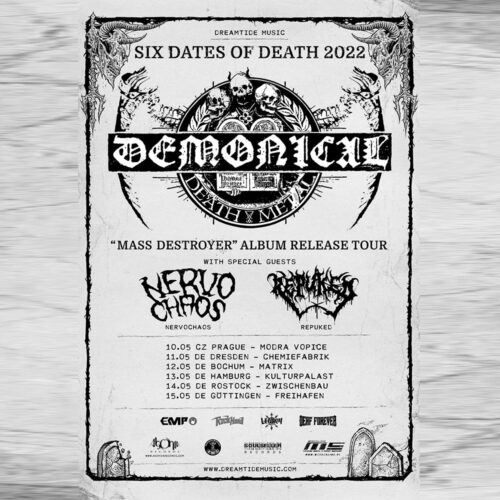 Posted at 12/06/2021
We are very happy to announce that NervoChaos is confirmed on the SIX DATES OF DEATH TOUR 2022, alongside Demonical and Repuked. SIX DATES OF DEATH TOUR 2022 10.05 CZ Prague – MusicClub Modrá Vopice 11.05 DE Dresden – Chemiefabrik Dresden (Chemo) 12.05 DE Bochum – Matrix Bochum 13.05 DE Hamburg – Bambi galore 14.05...
---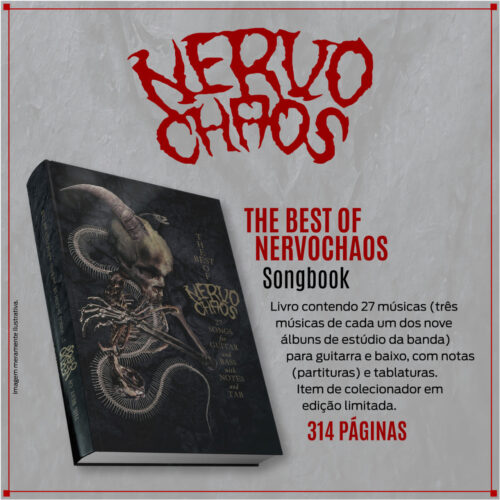 Posted at 12/02/2021
The book has just been released containing notes and tabs for 27 songs (3 songs from each of the band's 9 studio albums) for guitar and bass. There are 314 pages, with artwork by Alcides Burn. Limited Edition Collector's Item. "The Best Of NervoChaos" – Songbook can be purchased at: Songbook
---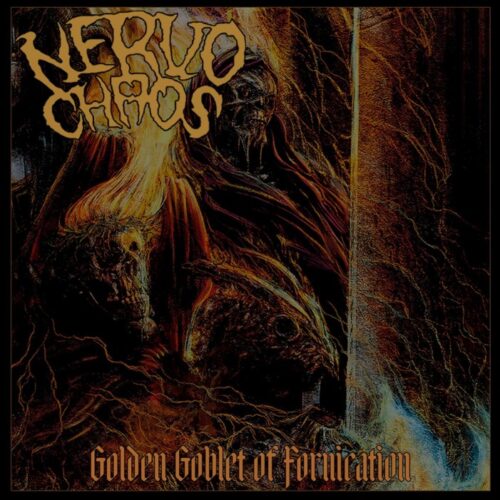 Posted at 11/26/2021
It's time to meet the second single from NervoChaos' upcoming full lenght, "All Colors Of Darkness". The single from "Golden Goblet Of Fornication" is, from the first second of the song, an aggressive and technically strong track, with a vocal attack that recalls Sepultura's first records, among others from that time. The more Thrash riff...
---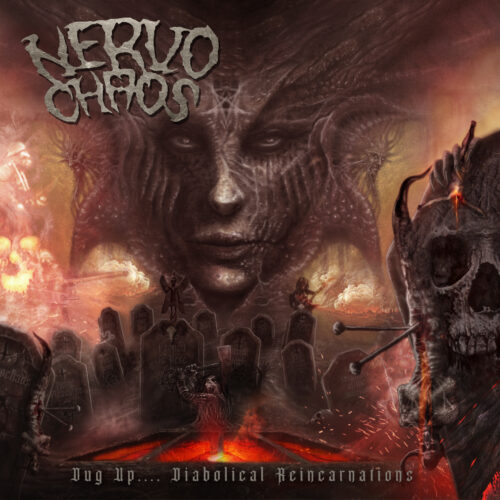 Posted at 11/20/2021
"Dug Up… Diabolical Reincarnations" is a special album with re-record of three songs each from the first four albums, "Pay Back Time" (1998), "Legion of Spirits Infernal" (2002), "Quarrel In Hell" (2006) and "Battalions Of Hate" (2010), and as a bonus, a song from the sixth album, "The Art Of Vengeance" (2014), in celebration of...
---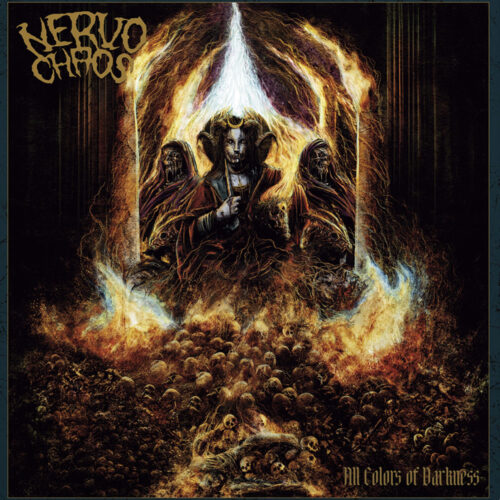 Posted at 11/18/2021
Brazilian death metal alchemists return with "All Colors Of Darkness", their new full-length, on 11.02.2022. Pre-order "All Colors Of Darkness" now in CD or LP (black and marbled orange/black colors available, each limited to 300 copies) here: https://bit.ly/nervo-target And check out their first digital single of the album right here: https://youtu.be/HGuGTvWlR7U
---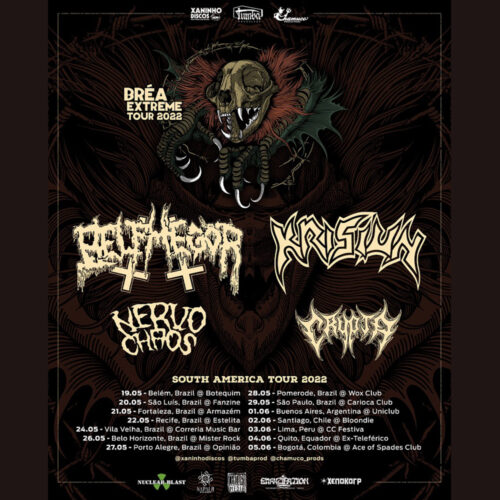 Posted at 11/11/2021
Belphegor + Krisiun + NervoChaos + Crypta INFOS/TICKETS: 19.05 – Belem, Brazil @ Botequim Tickets – https://bityli.com/SkCh6w 20.05 – São Luís, Brazil @ Fanzine Tickets – https://bityli.com/CRF7HX 21.05 – Fortaleza, Brazil @ Armazém Tickets – https://bityli.com/jar4yA 22.05 – Recife, Brazil @ Estelita Tickets – https://bityli.com/488Zw6 24.05 – Vila Velha, Brazil @ Correria Music bar Tickets...
---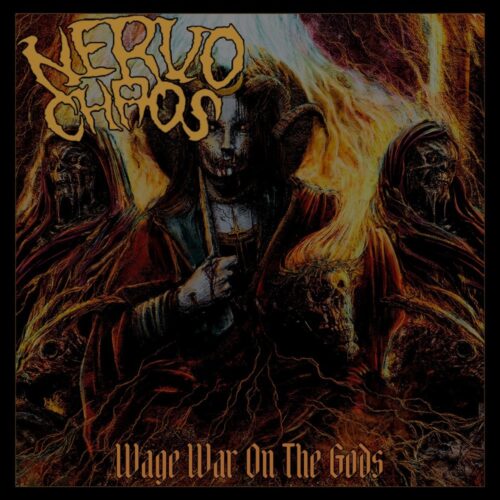 Posted at 10/29/2021
In the two years that passed since NERVOCHAOS released their last album "Ablaze", a lot has happened to the world. The Brazilian death metal mammoths, however, stood their ground, taking the rare time off the road to write and record a new album – the tenth in their career. And to say "All Colors Of...
---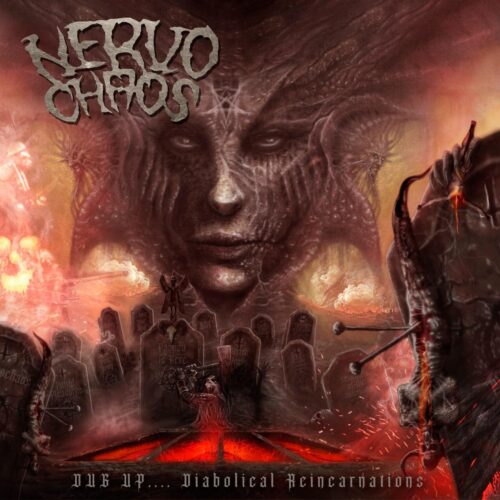 Posted at 10/16/2021
Check out reviews for the album "Dug up… Diabolical Reincarnations" Broken Tomb Magazine Hell-is-open.de Breathing the Core Hard Rock Info Acta Infernals Sound Magnet Metal Mind Reflections
---