News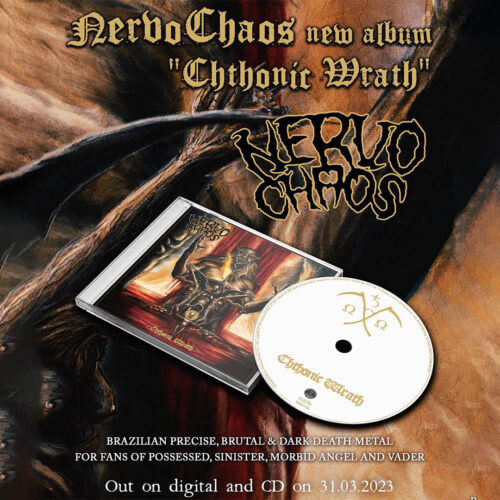 Posted at 12/14/2022
Pandemics was still hitting hard the entire globe, specially Brazil, where deaths exceeded the 30 thousand. Local death metal big guns NervoChaos were home for far too long. Being used to tour most of the year and not having that chance, due to Covid-19 related constrictions, the band had a brand new album entirely written...
---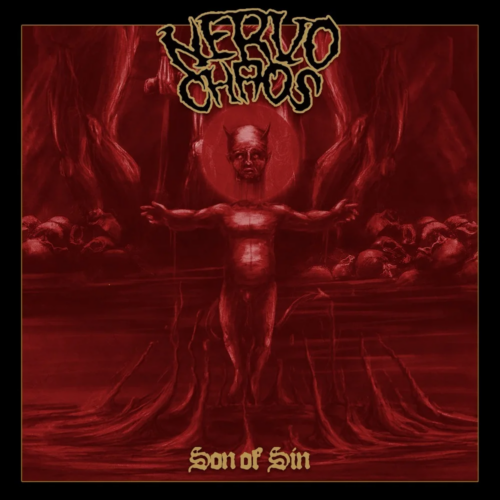 Posted at 12/01/2022
Less than one year after the release of their latest album "All Colors Of Darkness", Brazilian death metal stalwarts NERVOCHAOS are loaded and ready to hit the trigger with new music. "Son Of Sin" is the first digital single from the São Paulo band and, more significantly, it gets released after a year of intense,...
---
Posted at 03/18/2022
We are pleased to announce that we will be touring Europe this April/May and will feature support from our buddies Goatburner, as well as Mercyless, and Demonical & Repuked. We are looking forward to seeing everyone. Stay safe and stay metal. ALL COLORS OF DARKNESS TOUR 2022 17.04 – Helsinki (Finland) @ On The Rocks*...
---
Posted at 02/17/2022
Two of the most active names in national extreme metal today, the bands NervoChaos and Vazio, announce a 10-date tour, between June and July 2022 . NervoChaos is promoting their new studio album, "All Colors Of Darkness", released on 02/11 – in addition to the re-recording disc, "Dug Up… Diabolical Reincarnations", released last November. The...
---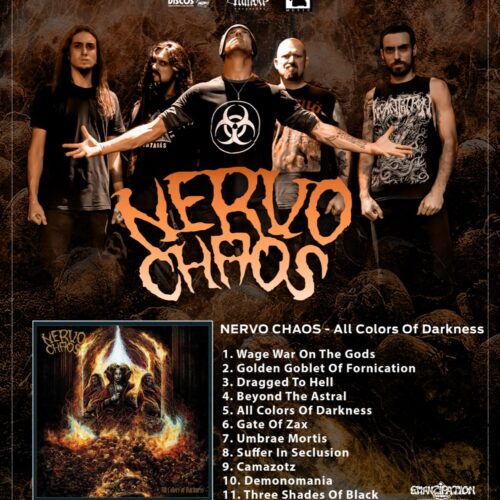 Posted at 02/12/2022
Outside countries tend to see South American countries as "exotic". But we can assure you that there is nothing exotic about having a large part of the population struggling for basic necessities, high crime rates and government after government doing nothing to change the situation. That's why bands like NervoChaos have a vibe of brutality...
---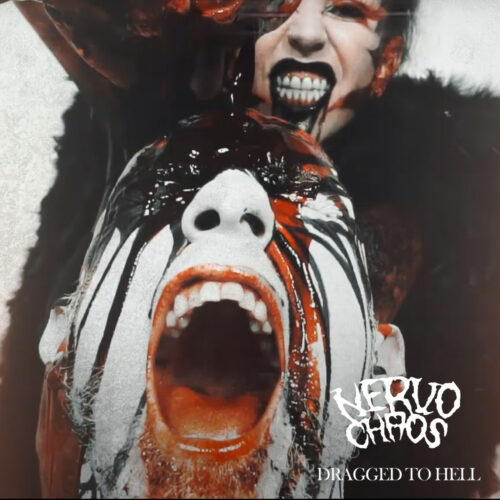 Posted at 01/21/2022
After a series of singles released ahead of the official release of their next album, "All Colors Of Darkness", NervoChaos now reveals "Dragged To Hell", their new song. With some changes of tempo and mood, "Dragged To Hell" shows the more eclectic side of NervoChaos, still extreme, heavy as fuck, still dark, but allowing the...
---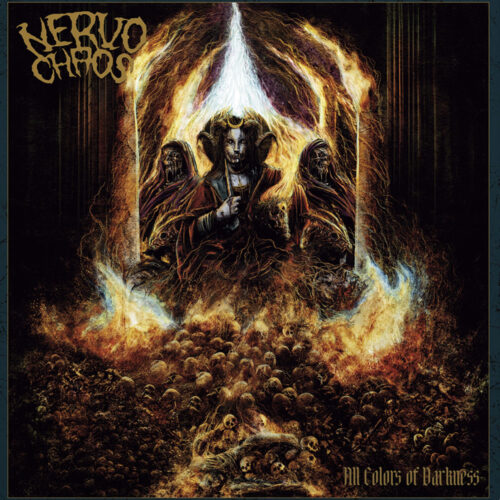 Posted at 01/10/2022
Our new album, "All Colors of Darkness", will be released on February 11th. National version in digipack and limited edition! Pre-sales coming soon, stay tuned! http://www.nervochaos.net https://nervochaos-store.minestore.com.br
---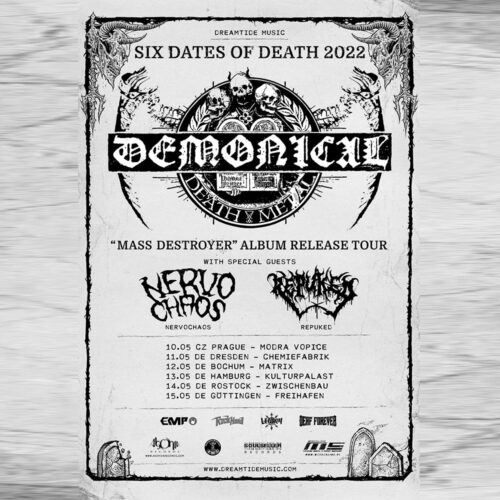 Posted at 12/06/2021
We are very happy to announce that NervoChaos is confirmed on the SIX DATES OF DEATH TOUR 2022, alongside Demonical and Repuked. SIX DATES OF DEATH TOUR 2022 10.05 CZ Prague – MusicClub Modrá Vopice 11.05 DE Dresden – Chemiefabrik Dresden (Chemo) 12.05 DE Bochum – Matrix Bochum 13.05 DE Hamburg – Bambi galore 14.05...
---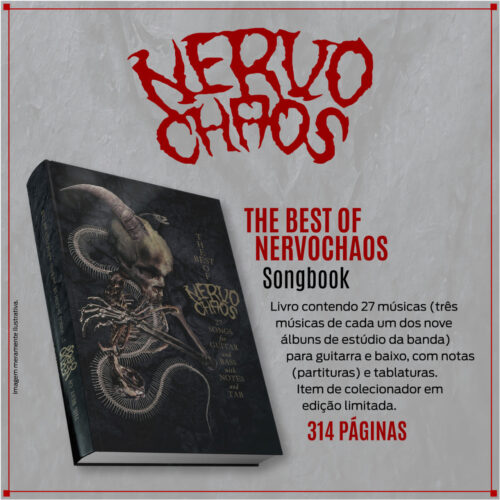 Posted at 12/02/2021
The book has just been released containing notes and tabs for 27 songs (3 songs from each of the band's 9 studio albums) for guitar and bass. There are 314 pages, with artwork by Alcides Burn. Limited Edition Collector's Item. "The Best Of NervoChaos" – Songbook can be purchased at: Songbook
---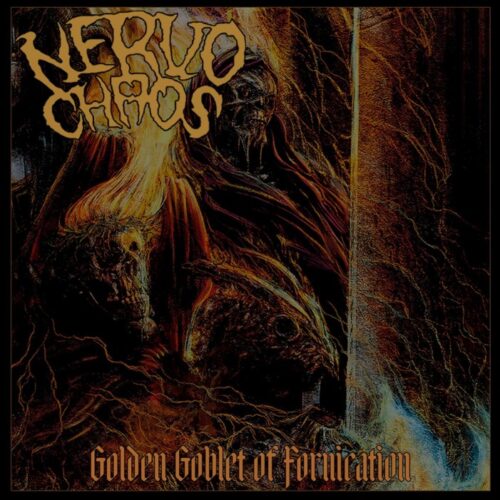 Posted at 11/26/2021
It's time to meet the second single from NervoChaos' upcoming full lenght, "All Colors Of Darkness". The single from "Golden Goblet Of Fornication" is, from the first second of the song, an aggressive and technically strong track, with a vocal attack that recalls Sepultura's first records, among others from that time. The more Thrash riff...
---