News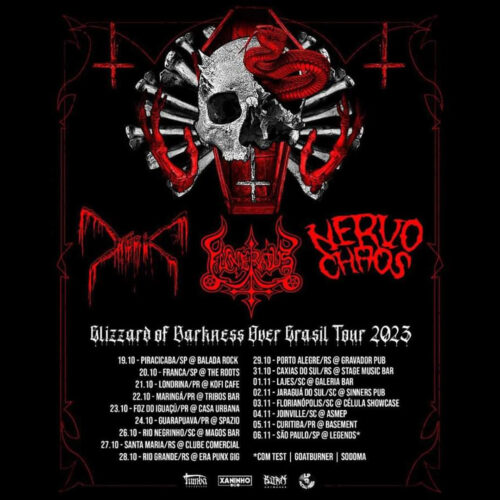 Posted at 07/31/2023
Continuing the tour to promote the album "Chthonic Wrath", we announce the "Blizzard of Darknerss Over Brasil Tour 2023", alongside the evil entities Mork and Funeratus. This tour will pass through the states of São Paulo, Paraná, Santa Catarina and Rio Grande do Sul, in an infernal celebration that unites the purest Black and Death...
---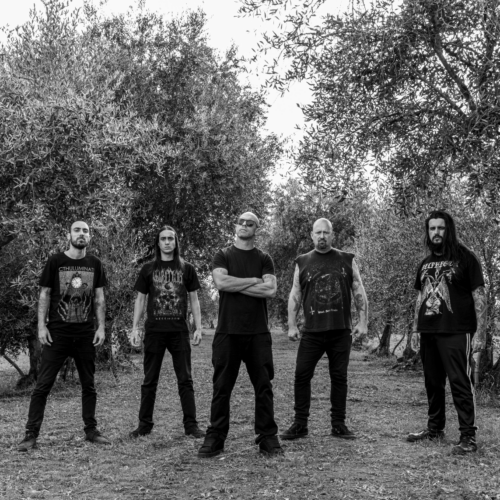 Posted at 05/31/2023
NervoChaos released this Friday (31) their new album "Chthonic Wrath", material that will please fans of extreme music. The album has already been reviewed by foreign media and had excellent ratings: – "This record is solid and raw as a rock" – Metal Temple 10/10 – "A death metal feast, really fast and brutally played"...
---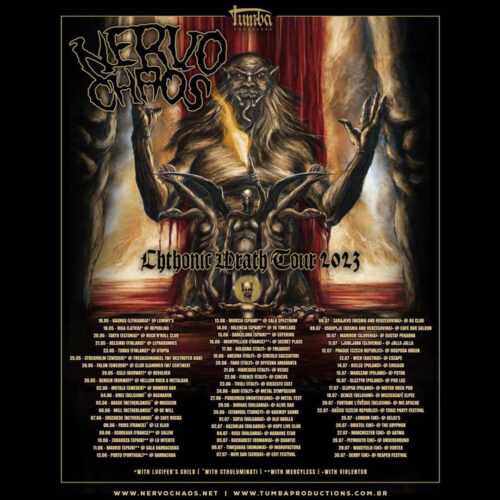 Posted at 05/17/2023
Hail headbangers! It is an honor for NervoChaos to announce the Chthonic Wrath European Tour 2023. There will be 60 performances of pure chaos and extreme metal! We hope to see you all at the shows and in the mosh pit! Check the dates and we'll meet you in your city!
---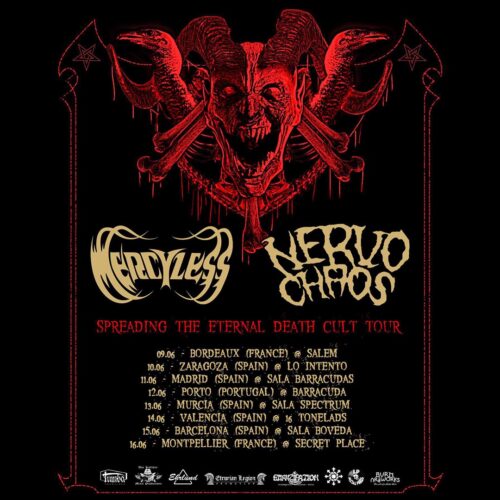 Posted at 04/26/2023
NervoChaos and Mercyless invite everyone to an insane tour, "Spreading the Eternal Death Cult", with eight nights of pure brutality and chaos spread across France, Spain and Portugal. We are waiting for you all! 09.JUN – Bordeaux (France) @ Salem 10.JUN – Zaragoza (Spain) @ Lo Intento 11.JUN – Madrid (Spain) @ Sala Barracudas 12.JUN...
---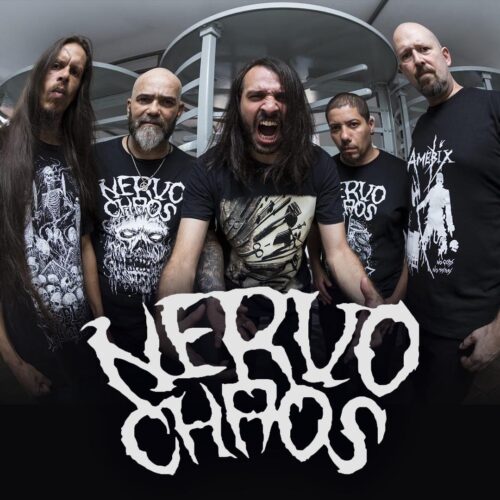 Posted at 04/26/2023
Introducing our new warriors. Get ready for the most insane and brutal mayhem! Vic Ferreira – vocals Hareton Salvanini – bass Allan Marcus – guitar Rodrigo Augusto – guitar Edu Lane – drums Photo by Shalon Adonai – Fotógrafo
---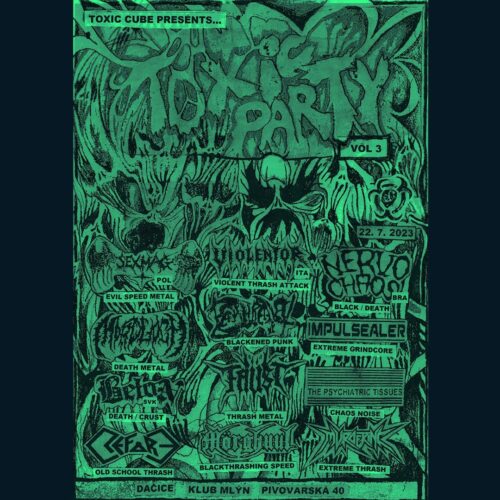 Posted at 02/28/2023
NERVOCHAOS confirmed at TOXIC PARTY vol.3 | open-air music festival (Dačice – Czech Republic) Evil & extreme metal worshiping by Toxic Cube – 22.07.2023 | Toxic Party Vol.3 FINAL LINEUP: SexMag, Violentor, NervoChaos, Mordloch, Bahratal, Impulsealer, Beton, Faüst, The Psychiatric Tissues, Refore, Mörghuul, Murder Inc
---
Posted at 02/27/2023
NERVOCHAOS confirmed at EXIT Festival (Novi Sad – Serbia) at the Explosive Stage with Exciter, WOLFBRIGADE, Massacre, Midnight, VIOLENTOR and many more!
---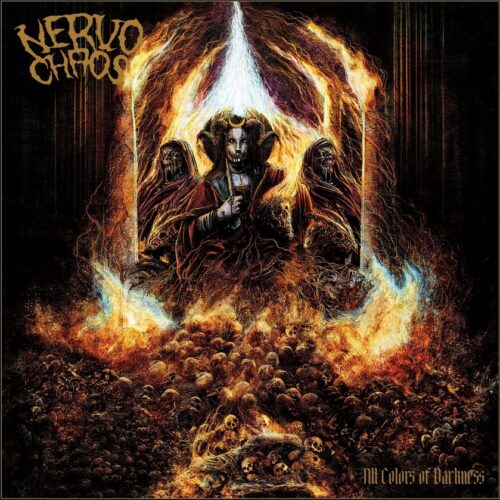 Posted at 02/23/2023
Check out review for the album "All Colors of Darkness" Time for Metal Interview NervoChaos – All colors of darkness: Il Raglio del Mulo
---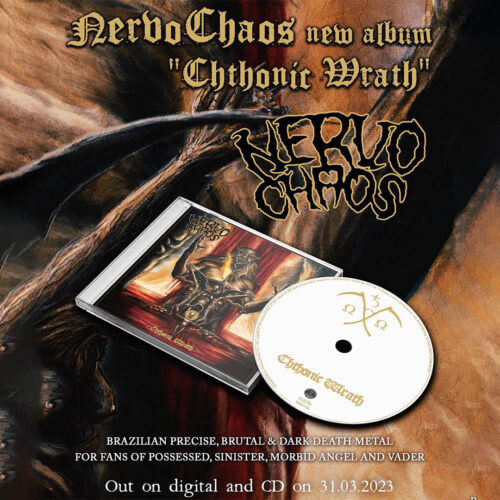 Posted at 12/14/2022
Pandemics was still hitting hard the entire globe, specially Brazil, where deaths exceeded the 30 thousand. Local death metal big guns NervoChaos were home for far too long. Being used to tour most of the year and not having that chance, due to Covid-19 related constrictions, the band had a brand new album entirely written...
---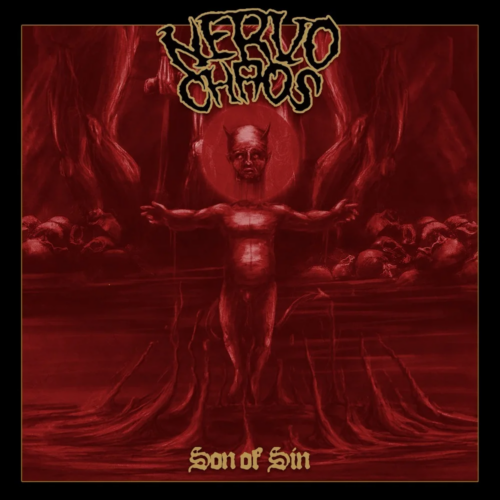 Posted at 12/01/2022
Less than one year after the release of their latest album "All Colors Of Darkness", Brazilian death metal stalwarts NERVOCHAOS are loaded and ready to hit the trigger with new music. "Son Of Sin" is the first digital single from the São Paulo band and, more significantly, it gets released after a year of intense,...
---